We offer a variety of guided horseback tours:
Reservations recommended, call 575-754-1700 to book a ride.
1 HOUR TOUR:
Bittercreek Mountain Trail 
We have rides leaving the stables daily at 9:00 am, 10:30 am, 1:00 pm, 2:30 pm and 4:00 pm. This is our most popular ride. The trail climbs 400+ feet offering beautiful vistas of Red River, Bittercreek Canyon and the ski area. Good for all levels of experience.
Price: $50 per horse (all prices include tax)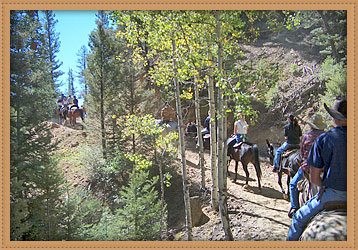 New ride and dine at Red River Ski Area!
SADDLE UP TO THE GRILL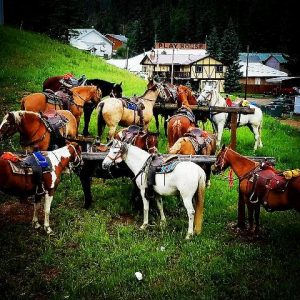 If you want a new experience in Red River try "Saddle Up To The Grill",  a sizzling culinary adventure which includes an hour horseback ride presented by Red River Stables on a trail around the Red River Ski & Summer Area to the Grill at the Lift House where you will be served your choice of a legendary steak seasoned to perfection, savory salmon fillet seared with lemon herb spice, or a drunken Cornish game hen.
All entrees will be grilled to your liking right before your eyes. Your sides consist of leafy green mix with homemade dressings, pasta salad, garlic mashed potatoes, sautéed vegetable medley and artisan bread rolls.
You will also be tempted with your choice of:
Dutch oven blackberry cobbler including homemade ice cream,  bourbon chocolate pie, or New York style cheesecake with caramel or raspberry sauce.
Rides meet at the Lift House Guest Service office at 3:30 pm.
For those that do not ride ask to join your family at 5 pm for the dinner only.
6 person minimum
Cost is $99 Adult and $65 Youth (4-12)
Reservations must be made 48 hours in advance  by calling  575-754-2223 x 202 or book online at:
http://www.redriverskiarea.com/activity/saddle-grill
This event is sponsored by Red River Ski & Summer Area in conjunction with Red River Stables.  It can only be booked online at the link above or by calling 575-754-2223 x 202.
2 HOUR TOURS:
Red River Ski Area or Sawmill Trail                   

Leaving  the stables at 9:30 am, 1:30 pm & 4:00 pm this ride is great for intermediate as well as expert riders.
Price:  $ per horse
3 HOUR TOUR:
Goose Creek Trail 
Leaving the stables at 8:30 am or 1:00 pm the Goose Creek Trail is a great ride for intermediate  to  advanced riders.
Price:  $ per horse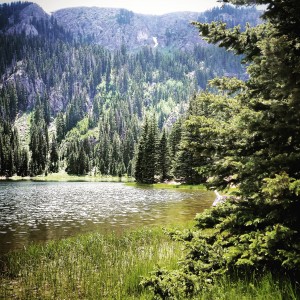 4 HOUR TOUR: 
Middle Fork Lake Trail
Leaving the stables at 8:00 am or 1:00 pm ride to Middle Fork Lake and enjoy the scenery at a remote high mountain lake.  Beginners to intermediate riders.
Price:  $ per horse
4 HOUR LUNCH TOUR:
Red River Ski Area Trail
Leaving the stables at 10:00 am, ride on nice, wide trails up to the Tip Restaurant and enjoy a bite to eat on the deck while gazing at some of the most spectacular scenery New Mexico has to offer! Recommended for intermediate to advanced riders.
Price:  $ per horse*
*Price for ride only, you are responsible for your meal.
WHEELER PEAK RIDE:
Leaving the stables at 8:00 am ride to the highest peak in New Mexico – 13,161′.  All you can say about this adventure is – UNBELIEVEABLE!
Intermediate to advanced riders only.  8 hour ride.                                                                     Price:  $ per horse
Private Rides – (your group only) can be scheduled for an additional $10/hour/horse.
NOTE:  No doubles on any multi-hour ride – doubles only on the 1 hour tour.